Decorator's Pantry Collection
CMC Powder, Glucose Syrup, Edible Glue
The Decorator's Pantry collection features an assortment of
high-quality products that are essential in making different creations come to life.
CMC Powder is an essential ingredient to making homemade gum paste or adding strength and elasticity to pre-made fondant or gum paste.
Edible Glue provides a powerful adhesion for your edible crafting. Use for attaching edible decorations to cookies, cakes, cupcakes and more!
Glucose Syrup is commonly used to make homemade fondant and candy, to sweeten drinks and is also used in baked goods because it acts as a moisture retaining agent.
Vegetarian | Nut Free
Processed in a facility that uses milk, egg, soy, & wheat.
CMC Powder:
Added Strength and Elasticity
Tasteless
Fast Drying
Edible Glue:
Drip nozzle eliminates chance of contamination
Clear for a flawless finish
Super Adhesive
Glucose Syrup:
Premium taste: made with pure sugar and no burnt notes
High quality, consistent, thick texture
Crystal clear formula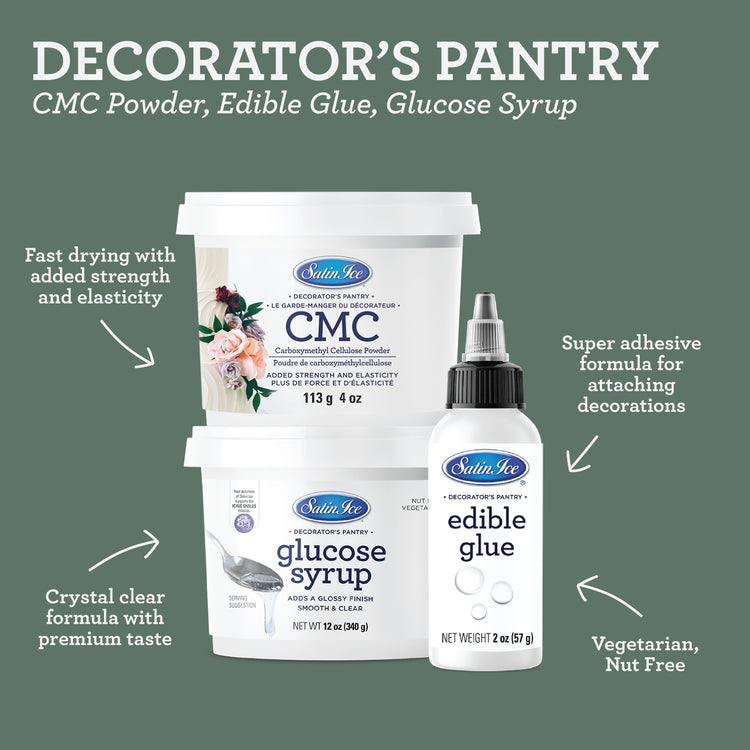 Available Colors Education
Below are downloadable links to our commonly requested resources for CMC Powder, Edible Glue & Glucose Syrup.
Video
View our latest videos for tips, techniques, tutorials and more!
Get Inspired
View our Pinterest galleries for fresh ideas using the Decorator's Pantry for your next project.
Marketing Support
Are you a retailer or distributor who needs Satin Ice Marketing Support? Please contact your sales rep for more information.